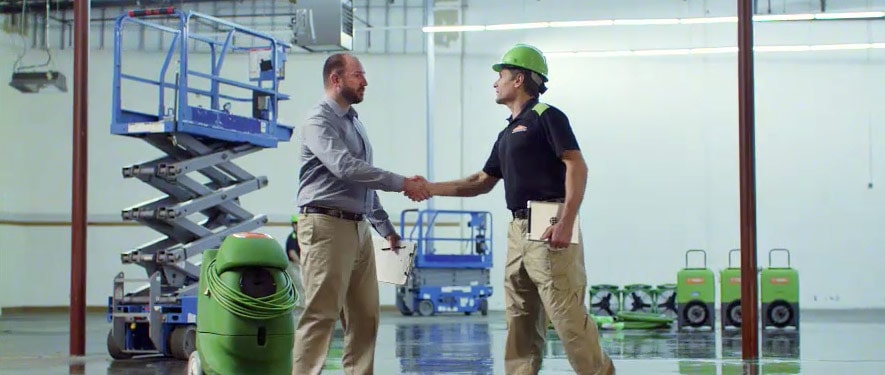 Commercial Services
Our Large Loss team stays busy in the area, with many schools, hospitals, warehouses, and other substantially sized institutions calling the county home. We work fast to provide unparalleled cleaning services however you need them.
Cleaning a Business After a Disaster
Fire, water, flood, and biohazard events can all leave your workplace contending with severe issues. As a leading regional restoration outfit, SERVPRO is a trusted team to manage mitigation, restoration, and even reconstruction. We rapidly evaluate the condition of the business to have a detailed estimation of the expected recovery costs in your hands quickly after disasters to limit the time you keep your doors closed.
Creating a Continuously Clean Workspace
Even without disasters and damage, having a clean workspace is a direct reflection of the pride in your work for your customers and the building staff. Taking the time to overcome issues as they happen with advanced cleaning strategies SERVPRO uses can keep your business looking its best as you need it, or you can schedule ongoing deep cleaning solutions for issues like:
Wall scrubbing
Deodorization
Carpet cleaning
Vandalism removal
Air duct cleaning
Certified: SERVPRO Cleaned
Property management for corporate offices and businesses now appreciate the day-to-day changes that result from unclean surfaces and the subsequent transmission of viral and bacterial pathogens. Our most advanced cleaning program, Certified: SERVPRO Cleaned, improves upon set surface cleaning strategies with powerful sanitization solutions and long-term protection from harmful pathogenic threats.
Small Office Buildings
Large Office/High-Rise Office Buildings
Apartment Buildings
Restaurants
Hotel/Motels
Small Retail Stores
Large Retail/Big-Box Stores
High-Rise Residential
Manufacturing & Industrial
Government/Military
Have Questions? Call Today – (617) 864-7378
Commercial Building Restoration Services
We are available 24 hours a day to get your Cambridge business back up and running. Our expertise includes restoration services for fire and water damage, including electronics restoration and document drying. We are also your business's best resource for mold remediation. Learn more about our commercial restoration services:
Commercial Building Cleaning Services
When the dirt, odor, and moisture challenges go beyond the scope of your regular janitorial staff, you need SERVPRO of Cambridge / Belmont. You can depend on us to get the job done right and get it done quickly. Our highly trained technicians use top-of-the-line equipment to make your business shine again. Learn more about our commercial cleaning services: