The Factors That Impact Water Damage Drying
4/13/2023 (Permalink)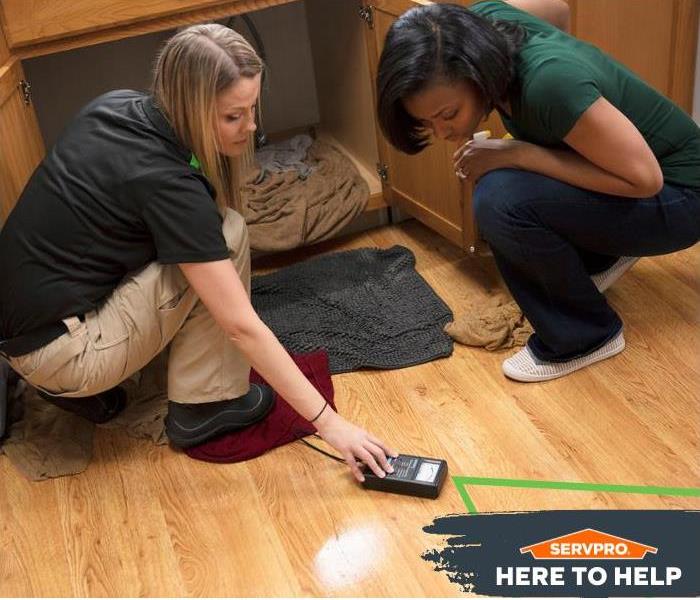 A water leak can escalate into a bigger problem. Contact the SERVPRO team in Cambridge if you are dealing with any water damage.
SERVPRO Water Cleanup Preserves Cambridge Homes
Moisture, regardless of the source, can put additional stress on homeowners. While minor damages may seem only to need a few fans to dry, this DIY solution might not prove sufficient for moisture inside walls or ceiling cavities. This unseen damage impacts framing, insulation, wiring, and even plumbing. Mold can start proliferating within just one to two days. Professional water restoration can save Cambridge residents time and money while keeping their belongings safer from damage, even for small disasters.
SERVPRO addresses water removal needs for Cambridge homeowners 24 hours a day with a suite of tools tailored to the job. This equipment, along with SERVPRO's repertoire of EPA-registered biocides, can eliminate water-related odors, microbes, and moisture.
How Long Does Water Damage Take to Dry?
The answer to this particular question depends on various factors, which can include:
Ambient temperature and humidity levels
The extent of impacted structures and contents
The materials affected and their individual drying needs
Whether the damage was sudden or gradual
Whether mold is present
Professionals can resolve many clients' cleanup needs within hours of a property owner's call. Larger-scale disasters can take days to restore the property entirely. The most crucial part of this process is that homeowners act quickly after noticing water damage. The faster it is spotted after it occurs, the more efficiently technicians can clean it without additional concerns like extensive home repairs or mold remediation.
While DIY solutions can sometimes prove sufficient, this often does not guarantee that the disaster is fully addressed. Moisture can still exist inside wall cavities and other structural materials. On top of that, materials like wood, concrete, fabric, and drywall all require different types of care and react to moisture differently. Positioning several fans in a wet laundry room or kitchen, for example, may seem like enough to address the problem. However, it can unintentionally create secondary water damage without adequate dehumidification.
How SERVPRO Handles Water Cleanup, Drying, and Rebuilding
SERVPRO professionals can address moisture-related concerns with a meticulous inspection process, powerful extraction and drying tools, and sanitation solutions that can remediate odors and microbes.
Before implementing a water damage plan, technicians inspect walls, flooring, carpet, and contents to determine moisture levels with pin-type and pinless moisture meters. Infrared cameras can determine the presence of moisture inside ceilings, walls, or floors. At the same time, thermohygrometers help technicians establish current relative humidity compared to a clean, dry area of the home if possible.
After formulating a plan of action and clearing it with homeowners, technicians can focus on extracting excess moisture, typically performed with extraction units. While there is rarely standing water present after damage occurs, SERVPRO can address it when present with the vacuum component of an extractor. Submersible sump pumps can remove water two inches or deeper. Extraction may take several passes to reach adequate moisture levels to begin drying but makes the overall process hundreds of times faster.
Technicians position air movement equipment for maximum water mitigation, pulling residual moisture off surfaces for refrigerant coil dehumidification units to collect. Heavily impacted structural materials with minimal other objects present may require high-powered desiccant dehumidifiers.
We're Faster To Any Size Disaster and can implement restoration tools when homeowners need them most. Call SERVPRO of Cambridge / Belmont at (617) 864-7378 for responsive restoration and build-back services.